Would you rather have a faint bit of heat, But have to listen to a high pitched whine from the heater for Nearly seven hours, Or have no noise but be freezing cold?
httpv://uk.youtube.com/watch?v=yiDxVO23k5g
This is me at 9am…
and this is me at 3.30pm…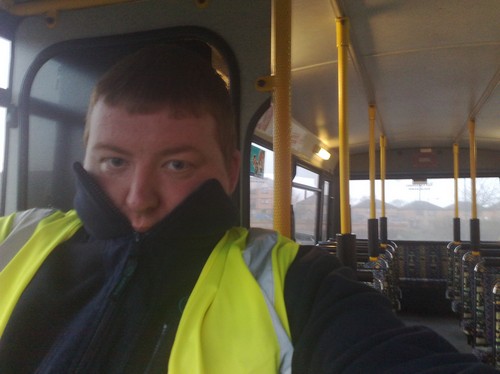 This bus seemed to get colder with each hour that passed!
Oh and notice how there's no passengers in either picture, It's been that busy today LOL
…and before anybody says anything about me looking miserable, This is my Route 20 Face, OKAY!
When you have a bus with no ticket machine, It seems to take twice as long to load the bus. It seems to confuse people when you say it's a free ride, They just stand there looking at you LOL. Well looks like one driver was getting tired of explaining it to each person judging my the picture I was sent today. (and If you are reading this Meatloaf this was NOT me!)
It also looks like our very own Mrs C is becoming a bit of a celeb! Here she is being 'spotted' driving one of Aylesbury's new Citaro's in High Wycombe (thanks 'Spotter Matt!'). It's also been suggested that if any of you spot Mrs C and manage to get a photo that you could please send me a copy, Then I can start a Mrs C Gallery LOL.
This is gonna go right to her head but 'Spotter Matt' said "She was very friendly and I have to say a good driver (considering it was her first time with an unfamiliar bus and the other Citaro driver we had on the 300 seemed to like the kerbs)."
She'll be dining out on that comment for months now 'spotter Matt' LOL